Joining the Trust
If everyone is moving forward together, then success takes care of itself (Henry Ford)

South Farnham Educational Trust seeks to extend its family of schools and welcomes expressions of interest from any school wishing to join us in the provision of excellent educational provision for every child. We aim to reflect the mixed educational economy in the UK so if you share our commitment and enthusiasm for being part of the self-improving school system, that seeks to instil the joy of lifelong learning in children and adults alike, then contact us for an informal chat about how we might work together.
We believe that each school that joins the Trust will bring something new and that all schools will benefit from this rich growth. We do not change the identity, values or ethos of the school and celebrate the diversity that each schools brings. We truly believe that we are stronger together.
Diversity – the art of thinking independently – together (Malcolm Forbes)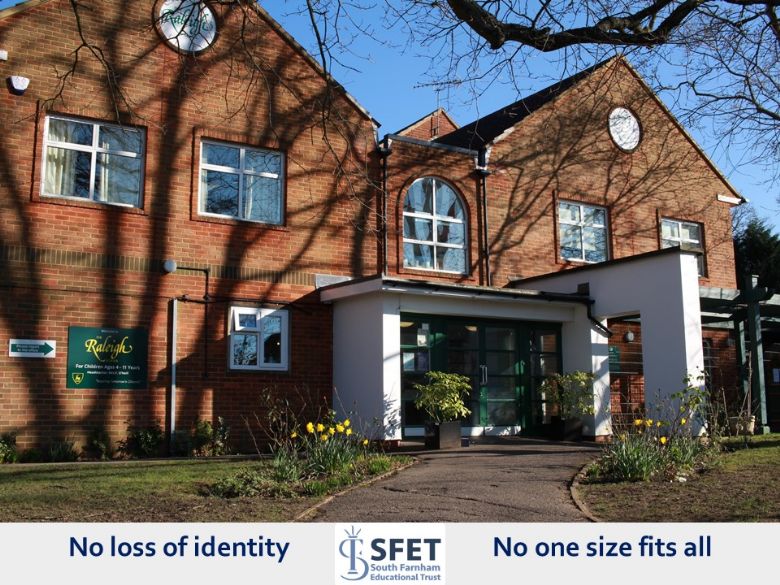 At South Farnham Educational Trust we strongly believe in the importance of local governance as the voice of the school community and you will find this deeply embedded in our policies and practices. The Trustees ensure that Chairs of Governors are regularly updated and involved in Trust policy development.
We understand that the decision to become an academy / consider which academy trust to join requires very careful thought, communication and time to research. We would be there to support you.
Growth is never mere chance; it is the result of forces working together (James Cash Penney)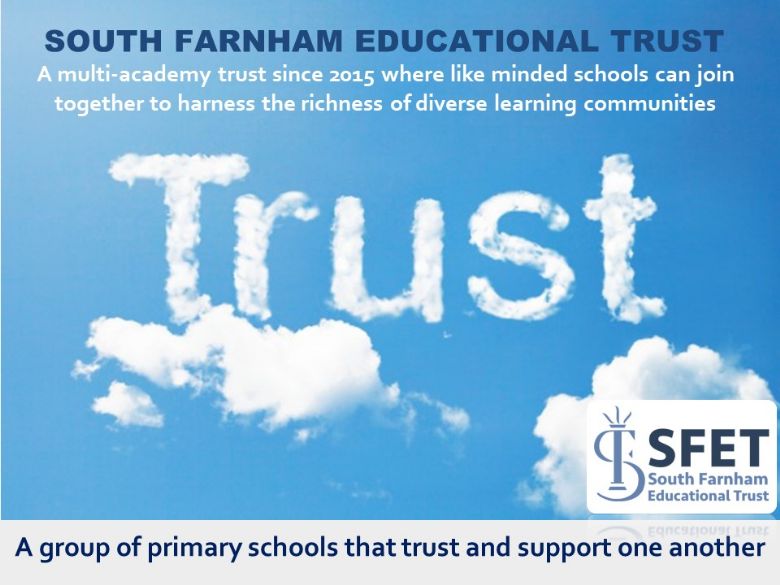 By joining South Farnham Educational Trust, you will be freed to focus on what really makes a difference to the children, staff and school community. We will work together to ensure that every penny makes a difference to your school. You will benefit from a number of services, including:
The opportunity to grow your own new teachers through the Trust's Apprenticeship and School Direct programmes
Access to school effectiveness, teaching and learning expertise
Opportunities for outstanding CPD through the South Farnham Teaching School (participation and facilitation opportunities)
Executive lead meetings for Headteachers to share practice and collaborate on a variety of projects
The opportunity to contribute to the national educational agenda
Management of bids for grant funding
Payroll services
Data protection services (GDPR)
Legal services SLA
Human resources
IT managed service
Internal assurance fee
Audit fees
Pension valuation fees
Budgeting software licence
Health and safety compliance
Internal assurance fees
Software licences
Marketing support and advice
Bespoke services as required (for example policy development / project management)
If you would like to arrange a conversation with a member of the South Farnham Educational Trust team to learn more about us or becoming part of an academy trust, please contact Sir Andrew Carter (acarter@sfet.org.uk) or Claire Harnden (charnden@sfet.org.uk) on 01252 717408 or 716155